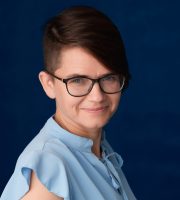 Justyna Doherty
Coordinator
Justyna joined Trim FRC in 2016 as a Community Development and Family Support Worker. She has enjoyed meeting and working with families from the local community, and getting to know so much about Irish, Traveller, Lithuanian, Polish, French, German, Pakistani, Hungarian, English, South African, American, Venezuelan, Spanish, Brazilian and many other cultures in Trim and South Meath. In Summer 2020 Justyna has moved to the role of Coordinator and now is supporting a wonderful team of people working with Trim FRC on a full time, part time and volunteer basis. She loves music (no language barriers here!), cycling, walking and being outdoors whether or not we get the weather.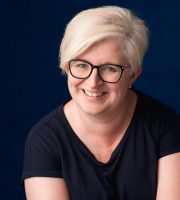 Catherine Keenan
Adminstrator
Catherine Joined Trim FRC in July 2017 as our Administrator. She wears a number of different hats in Trim FRC, she is our Rainbows Coordinator, Counselling Coordinator, a WRAP facilitator, Newsletter designer, keeps an eye on our Finances, Grants applications, Office supplies and tries to keep the staff as happy and comfortable as she can (it's not an easy job!!). You might find her strolling around the town as part of our Stroll for your soul group. She is also an avid cake taster and coffee drinker. She is very eager to learn new things and recently took up piano lessons.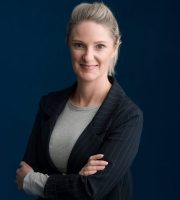 Caroline Morris
Community Development and Family Support Worker
Caroline is the newest addition to Trim FRC team – she took up the role of Community Development & Family Support Worker in December 2020. She has a background in Community and Youth Work and has worked with many families and young people over the years. Caroline is looking forward to connecting with the community of Trim and surrounding areas through activities, support, programmes and fun. Her hobbies and interests are reading, walking, mindfulness and interior design.
Fionnuala Shiels
Housekeeper
Fionnuala is a Trim native and retired Camogie player. She is a great listener, always there for other people helping with any tasks she can assist with. In her spare time she loves dancing and socializing with friends.
Padraig Loughran
Food Bank Assistant
Padraig joined Trim FRC in summer of 2022 as the Food Bank Assistant. He enjoys his work immensely. Before coming to work at the FRC Padraig tried to change the world through protesting and when that didn't work decided to travel the length and breath of Ireland with a guitar on his back and could often be found musically bearing his soul on the street. Nowadays he believes change happens locally and by helping those nearest to you. He can be found in the bungalow and is always happy to help with whatever needs doing. When asked to comment further on himself Padraig stated "My brilliance can not summed up by mere words
Elaine Casey
Food Bank Coordinator
Elaine has been working in Trim FRC for 2 years.  She initially took up a role of Communications Coordinator and then moved on to become Foodbank Coordinator which she really enjoys as she loves being able to offer direct help to people and meet new families. Elaine is a big (seriously big) GAA fan and enjoy coaching children. She also loves music but her favourite pastime is walking.
Brandon Regan
IT Coordinator
Brandon has been working at Trim FRC since October 2020 and has been enjoying every second of it. He is always jumping between tasks, from managing the backend of the emailing system to automating spreadsheets. He is the go to for any technical help and support. He also helps to run, promote and coordinate the Coderdojo programme for young people within the local community, currently being piloted online for the first time. Whether working or at home, he is always interested in surrounding himself with the latest technology.
Kathrin Franke
Failte Isteach Coordinator
Kathrin came from Germany in 2007 and lived in Dublin for a number of years. She has moved to Trim in recent years and joined Trim FRC in 2020 as Failte Isteach Coordinator. She knows what it takes to learn another language and she is lookingforward to supporting new students at Failte Isteach English classes. Kathrin likesreading, listening to music and going to the theatre/ cinema
Maryrose Williams
Beacon Family Support Worker
Maryrose is a Family Support worker in Trim FRC. She has been in the role since June 2019 and before that she worked for 17 years in a second level school, supporting young people at risk of early school leaving. It was a big move for her but she is really enjoying the work. She loves working with families and building relationships, she is constantly in awe of parents and how they keep going in difficult situations. Her job is to look at ways in which we can work together to help make that situation a bit better. In her spare time she is a big fan of reading and music concerts.
Stephen is a gentle giant who took up a role of a Caretaker at Trim FRC to help us survive pandemic restrictions and adhere to Covid guidelines. He is a helpful handy man to have around on days when things need to be fixed or new shelves need to be put up, too. Having worked in a construction business all his life, he loves outdoors but his favourite pass time is music.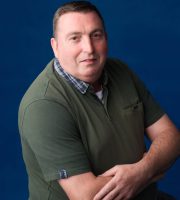 Paddy is Trim FRC Super Caretaker who hides his cape under his Liverpool Jersey! Paddy has been with us since 2018 and knows Trim FRC inside and out. He is also a mind full of information on Trim and the people of Trim having been working as a local butcher all his life. He is second to none when it comes to cooking a big pot of chicken curry or fry for everyone in the Office. As you may have guessed already– we would be lost without him.
Just Call our Office on 046 9438850 or Email:info@trimfrc.ie
Feel free to reach out to us at any time. We're here to answer all your questions!